That was a question I had to ask myself over and over again when I attended QT2 professional camp in New Hampshire earlier this month. I arrived after a week of celebration with fun, friends and good food (basically all the things I love!). When I stepped onto the scene I hadn't given it much thought. Frankly, I hadn't mentally prepared much for this camp (which is surprising considering how hard the spring camp was in FL). The fact was I simply hadn't had much time! Coach Jesse and I agreed that if I was headed to Kona then I would go to camp, if not, then I would not. I found about making the final cut on Thursday and spent the weekend in a whirlwind of trying to get arrangements made while getting back to real structured training. By the time Monday camp it was start packing and getting ready to leave. Wednesday I was on the road!
I showed up to the first workout which was a running workout where we loaded into cars and were brought to the "starting line" of what would include some very intense tempo work. I hadn't seen the heart rates that were to be produced in over 3.5 weeks, maybe 4 and I knew immediately this was going to hurt. How bad? Well, that was to be determined. Being a runner, I thought somehow I would magically be able to hang. Quickly, I found out that being out of shape I wouldn't be fairing so well against my teammates who had been putting in weeks and months of solid builds to get to this point! I felt sluggish and out of shape. My mind started playing tricks on me almost immediately. "How was I going to hang with the best in the world in Hawaii when I was sucking air through a straw with fire coursing through my veins during a simple tempo workout??!" I got dropped, hard. The video below was right before I fell completely apart.
After a good butt-kicking, my tail was thoroughly between my legs. I went home licking my wounds and trying to decide what was wrong with me. It seemed there was a mental issue I wasn't dealing with but that needed to be addressed, immediately. Even my coach could sense it as he showed up at our house shortly after to check in. I didn't get to vet it with him then, which was almost good because frankly it took me a few days to know what it was.
My focus on Tremblant had been like a laser. I was dialed in to the max and had been thinking about that day for months. I'd visualized, knew what to expect and felt I could and would have a great day if it was meant to be. I felt 100% connected to that race experience and it couldn't have played out any better. The focus was do my best there and if it landed me a Hawaii spot, great. Somehow I'd never entertained what would actually happen if I GOT the spot. What did I expect at Kona? What would it be like to race there against the best in the world? In some ways I couldn't even entertain the idea until I was actually in that position, but when I finally was actually on the start list it was just a crazy haze of planning and packing and BAM - there I was at camp! My head hadn't quite caught up with the fact that this camp was going to work me in a way I hadn't been worked since the spring!
The day after the run, I woke up sore, tired and realizing I had 6 more days of this goodness coming my way. I had better get my game face on and FAST or it was going to be an uphill battle. There were only 6-9 of us at this camp so it was a much more intimate feel with this small group going after each other all the time. We are all extremely competitive (uh..no duh) so it was a constant string of "put up or shut up" day after day, two to three times per day.
You show up, you learn the workout, you try not to faint and then you move on, put your head down and make the absolute best of what your body is willing to give. Day after day I had to ask myself "Well, just how hungry are you? How bad do you want it? Are you going to settle for just GOING to Kona or do you want to actually try to be your BEST there?" Slowly, but surely, I started wrapping my mind around embracing the hardness of each day when your body is completely sore and tired, but your mind is telling it that it has to find a way to overcome.
We swam open water EVERY DAY. Let me say that again, every single day we were in this water at the lake. Some days your feet were tied together and you got to sprint 50's at least twenty or more times. It was extremely valuable to get that much open water time in and some days we just wore swim skins and it was REALLY REALLY cold. When you're body is all but shutting down being in cold water for up to an hour and forty minutes is a blast.
Then, on the 5th day, there was a field trip.
Some people think of a field trip as going to a museum, attending a play or exploring a new place. Ours was more like the last option, just with some running, biking and hiking mixed in at all hours of the morning.
We weren't told where we were going, we were just told to pack things to swim, bike, run and hike and that we would be leaving in about an hour and fifteen minutes. Awesome. This was going to be interesting. Jessie, Jennie and I (my housemates for the camp) packed everything we could think of into the car and followed Coach and the other athletes to the White Mountains. The first day we were told we would be biking five hours with 9,000 ft of climbing so we got our gear on and headed out. We ran before and after the ride and it was incredibly beautiful (and hard).
It was a great ride other than poor Jennie getting into a tussle with some train tracks. Unfortunately, they won and she took a tumble! Her first bike accident wasn't fun, but she held it together for the hilliest part of the ride like a champ! She's tough all around doing two Ironmans in four weeks and then turning around to do another in two weeks!
After arriving home around 6:30 / 7:00pm we were told we would be leaving in the morning at 4:15am to hike for the next 6-8 hours. Being my first real hiking experience I was mystified on everything from what to wear, what to bring to eat to what this would actually be like!
What it was - beautiful (aside from my finger in the shot!). It was also like five hours of doing the stair master and then two more hours of pounding on your own legs with a baseball bat. I'm pretty sure I couldn't even feel my legs by the time it was over.
Ascending the first peak, Haystack, right at dawn was pretty spectacular. I knew I was in for a SPECTACULAR, but SPECTACULARLY HARD day.
It was also my anniversary of eight years so it was a little sad not to be with Kyle that day, but I definitely thought of him a lot out there and how thankful I was that he encourages me to go do these amazing things.
Everyone in the group ended up being pretty amazing at hiking. Jennie was also a new kid on the block and showed me up royally with her skills, but I didn't mind! Most of all I just wanted to be safe and make it out without and broken ankles which would have been very easy to have if you lost focus for even a second. You can see a picture of a part of the hike below. Coming down or going up you had to be on your game every second.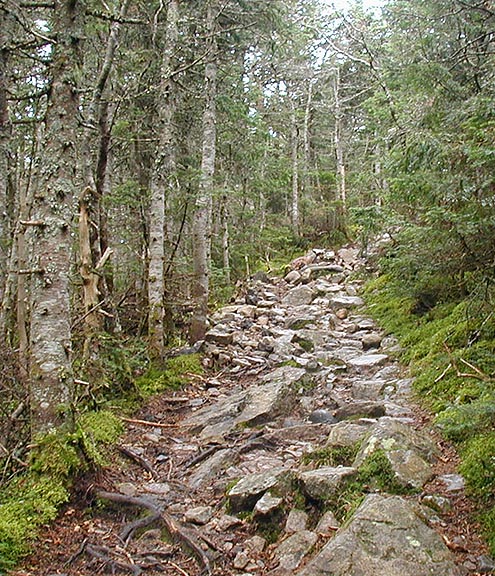 Jesse said the hike we did should have taken the average person about 10-12 hours so we would be aiming for roughly half that amount of time. Great, speed hiking. We ran the trails between mountains when we had any clear ground and at some point I started hitting the caffeine I was in such bad shape!
All in all, it was an awesome experience with some incredible people that I will never forget! Left to right are Cait, Matt, Jessie, Jennie, Jesse, Pat and me!
We all came out a little stronger and feeling pretty spectacular about the day we just had. That was until the next day when no one could barely move. I couldn't even sleep I was so sore the bed hurt to roll over!
The Lake!
We had a small visitor at the house on our final night and we were so tired and sore I seriously thought I was hallucinating! We ended up putting a bowl over him, sliding a magazine under it and getting him outside. Thanks to my housemate Jessie D. for helping to execute his departure!
I spent a lot of time, sometimes multiple times per day, in my
NormaTec
Recovery Boots!
We all worked so hard and on the last day of camp, just when we thought we couldn't give any more, we took on a 7 hour ride. Just when I thought there was NO possible way I could make any good of that ride, my legs showed up about two hours in and from there I just started cranking away believing, as usual, that anything is possible. You just have to have a little heart!
Sometimes you also have to have a little star! Jennie made this spaghetti squash casserole in one of the pans provided at the house that had some character! I had a bite and it was delicious! I enjoyed spending that time, as tough as it was, with teammates that also wanted to work hard an push themselves. It was a time I will never regret putting in to prepare for the World Champs. I could have never trained that hard on my own and while it hurt, it definitely gave me some confidence by the end that I am stronger than even I think I am sometimes! Thanks to my Coach for putting such a wonderful experience together for each of us and to my teammates for pushing me to new levels!!